Description
MAXSEAL® SUPER is a special waterproofing coating made of a mixture of cements, carefully controlled aggregates and special organic and inorganic additives. Its special formula improves the osmotic effect of the application allowing the penetration in the concrete through its capillary system. The product crystallises inside sealing, waterproofing and protecting the concrete structure. It has been designed to be applied on fresh or cured concrete, pre-cast concrete, concrete blocks, cement plasters but also suitable on bricks and masonry.
NON-TOXIC- Suitable for Waterproofing inconfined spaces. Drinking water safe.
As a waterproof coating for exterior and walls.
Basements and below-grade structures subjected to positive or negative water pressure.
Waterproofingand protection of concrete foundations, retaining walls and foundation slabs.
As a waterproof coating for concrete blocks and prefabricated panels.
As a coating to waterproof dams and retaining walls.
To protect and waterproof concrete in water treatment plants.
Waterproofing tunnels and shafts.
Suitable for use in contact with drinking water.
The penetration inside concrete provides internal sealing and protective effect. It seals cracks up to 0,4 mm.
100% waterproof coating, even in permanent immersion applications subjected to high pressures.
For indoor applications, especially basements, the coating resists negative hydrostatic pressure from groundwater.
Can be applied on dampened surfaces, being easy to use free of future maintenance costs.
Resists the corrosive effects of salt water and atmospheric pollution.
Longer lasting than paints and other coatings.
Once it sets, can be painted over. It can be covered with ceramic tiles.
Allows vapour diffusion.
Application by dusting and power trowel
MAXSEAL® SUPER can be dusted on the lean concrete and the steel reinforcements. This procedure will not only protect the reinforcement itself but will prevent the rising dampness into the foundation slab.
The lean concrete should be dampened until saturation and MAXSEAL® SUPER will be dusted using between 1,5 to 2,5 kg/ m2. The concrete of the foundation slab can be poured after one hour, once MAXSEAL® SUPER has hardened and adhered to the lean concrete, endeavouring not to damage the previous application.
The application is performed on the Fresh concrete, after levelling, with enough strength to be walked over, but still fresh enough to dampen the surface when trowelled. The product is spread in powder form as supplied at a ratio of 1,5 to 2,5 kg/ m2, endeavouring to achieve a complete and uniform coverage. The trowelling will provide a monolithic waterproof layer, which can be slightly dampened to improve the penetration and to prevent an excessively quick drying, which would  slow down properhydration of MAXSEAL® SUPER.
Application by brush, broom or spray
Mix just with water between 6 and 7 litres per 25 kg bag using slow speed drill (400 – 600 rpm). Applications made at high temperature or sprayed, the water ratio can be increased slightly.
For standard applications, MAXSEAL® SUPER can be applied with a fibre type brush or broom such as our MAXBRUSH or MAXBROOM . Apply a thick layer to form a continuous and uniform coating; do not spread as if it were paint, apply only in one direction, the second coat should be spread in cross direction. Consumption is between 1 and 1,5 kg/ m2 per coat, for a total consumption of about 2 – 2,5 kg/ m2. Waiting time between coats is from 6 – 8 hours minimum to 24 hours maximum.
It can be also sprayed by means of a shotcreting equipment. For applications made by spray which will later be subjected to water pressure, and in order to ensure a complete coverage of the surface, it is recommended to slide the broom over the material which has just been sprayed.
Singular spots such as columns, penetrating pipes, corners, concrete joints, and expansion joints should be treated and sealed accordingly.
Application conditions
Optimum application temperature is 10º – 30ºC. For summer or hot temperatures (>30 ºC), wet surface with plenty of water. You can water surface even after MAXSEAL® SUPER has been applied if it is noticed that the drying process is too fast.
Do not apply when temperature is below 5ºC or if such temperatures are expected within 24 hours after application. Do not apply on frozen or frosted surfaces. Do not apply if rain is expected within 24 hours after application.
Cleaning
Tools and equipment must be cleaned with water immediately after use. Once MAXSEAL® SUPER hardens, product can only be removed by mechanical methods.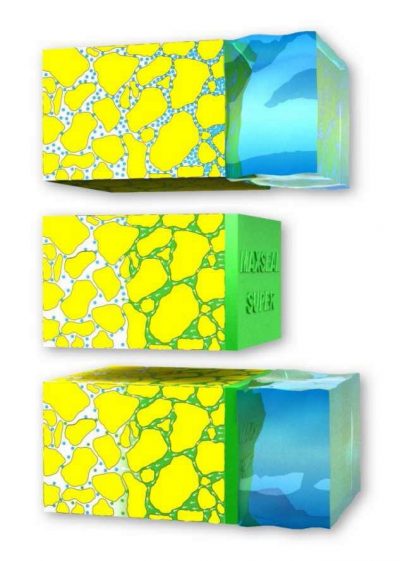 Estimated consumption applied by brush, broom or spray is between 1 and 1,5 kg/ m2 per coat, for a total consumption of about 2 – 2,5 kg/m2 in two coats. Porous surfaces, substrate conditions and application method can vary this estimated consumption.
Applied by dusting on fresh concrete, estimated consumption of MAXSEAL® SUPER is about 1,5 – 2,5 kg/ m2. Congested reinforcing can increase consumption up to 20 – 25 %.
A preliminary on-site test will determine exact consumption.
For further information, Safety Data Sheet of MAXSEAL® SUPER is available by request.
Do not use MAXSEAL® SUPER if in contact with Very soft water, acid water and/or carbonic water. If sulfates are present, i.e. groundwater, seawater or wastewater, use MAXSEAL® SUPER ANTISULFAT version.
In case of doubt related to the kind of water In contact with MAXSEAL® SUPER, or further information, consult the Technical Department.
MAXSEAL® SUPER is supplied in 25 kg bags and drums. It is available in grey and white.
Twelve months in bags and eighteen months in drums respectively, in its original unopened packaging. Store in a dry covered place protected from damp, frost and direct sunlight, with temperatures above 5 ºC.
MAXSEAL® SUPER is an abrasive compound, so protective rubber gloves and safety goggles must be used to prepare the mixture and apply it. In case of skin contact, wash affected areas with water and soap. In case of eye contact, rinse thoroughly with clean water, but do not rub. If irritation persists, seek medical attention.
Disposal of the product and its empty packaging must be carried out as per official regulations.
Product characteristics
CE Marking, EN 1504-2
Description. Mortar for protection of concrete. Coating (C).>
Principles / Methods. Protection against ingress with coating (Principle 1-PI / 1.3), Moisture control with coating (Principle 2-MC / 2.2) and Increasing resistivity by limiting moisture content with coating (Principle 8-IR / 8.1)
General appearance and colour
White/Grey powder Maximum aggregate size, (mm)
0,63 Density for powder, (g/cm3)
1,15 ± 0,10 Mixing water, (%, by weight)
24-28 Density for fresh mortar, (g/cm3)
1,85 ± 0,10
Application and curing conditions
> 5 Pot life at 20 ºC & 50 % R.H., (min)
30 – 40
Minimum / Maximum waiting time between coats at 20 ºC & 50 % R.H., (h)
6 – 8 / 12 – 16 Drying time at 20 ºC & 50 % R.H., (h)
- Mechanical load: covering with gravel, renders, plasters or tiles 3 - Permanent immersion
Cured product characteristics
Density for cured mortar, (g/cm3)
1,75 ± 0,10 Depth of penetration of water under direct pressure, EN 12390-8 (kPa)
850 Depth of penetration of water under indirect pressure, EN 12390-8 (kPa) 250
Permeability to water vapour, EN ISO 7783-1/-2. Classification 1,75 ± 0,10 Depth of penetration of water under direct pressure, EN 12390-8 (kPa) Class I: Permeable to water vapour V (g/m2·day) / S (m)
340,22 / 0,06 Permeability to water and capillary absorption, EN 1062-3. w (kg/m2·h0,5)
0,03 Compressive strength at 28 days, EN 13892-2 (MPa)
> 40,7 Flexural strength at 28 days, EN 13892-2 (MPa)
> 8,0 Adhesion on concrete at 28 days, EN 1542 (MPa)
1,61 Suitability for contact with potable water, BS 6920
Suitable Consumption*
Consumption by dusting method, (kg/m2) 1,5 – 2,5
Consumption per coat/total application, (kg/m2) 1,0 - 1,5 / 2,0 - 3,0
* These figures are for guidance only and may vary depending on porosity, texture and conditions for substrate, and application method. Perform a preliminary test on-site to ascertain the total consumption exactly under jobsite conditions